Thai Massage Course for Career
You don't have to go to Thailand, you can study Thai massage in Sweden for a career and get a certificate of Thai massage (150 hours) from the Ministry of Public Health.
Newsletter signup
Keep up-to-date with and developments from Nuad Thai Nordic. Learn the inside tips and strategies on how to run a successful business in the massage industry.
"*" indicates required fields
About Nuad Thai Nordic
On 12 March 2023 we opened Nuad Thai Nordic – Training & Certification Center at Mobilia shopping center, Malmö, Sweden which will be a comprehensive learning center with a massage salon as a model for an ethically sustainable business, training facilities and offices that will serve as a coordinating center between the member countries of the Nordic group to extend the Malmö model to the whole Nordic region.
Learn more about our history
Certification for business owners
Are you a Thai massage salon owner who wants to run your business successfully? We provide a free training program that helps massage business owners succeed. The salons are approved by the Environmental Management Agency and operate an ethical business model developed by ThaiWISE.
Certification for employees
Do you want to be a certificated masseuse? We have courses and activities for you who work or want to work in the massage industry. The courses are given in the Thai language.
News & Courses
Nuad Thai Nordic has a variety of training courses from learning Swedish, business development and perfecting the craft of traditional Nuad Thai massage. We are also very active in the community.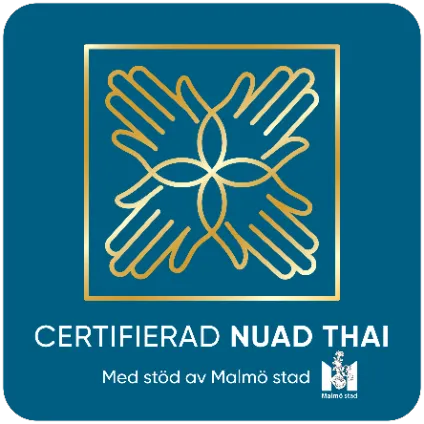 Relax with a certified Nuad Thai massage – you're in good hands!
We have Thai massage salon members who have successfully graduated from the certification program and have been certified. They operate an ethical business and give professional massages. Click below to find one near you.