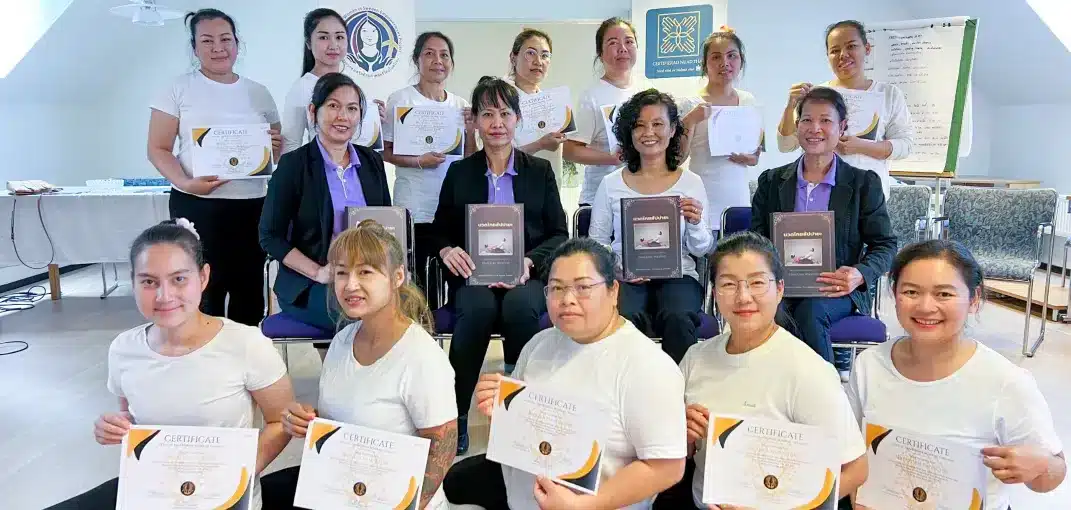 COURSES
We offer training for people who want to become certified Thai massage therapists. After successfully completing our course, you will receive a certificate in Thai massage from the Ministry of Public Health, Thailand. This course is run in Thai.
Training in Malmö
Training takes place at Nuad Thai Nordic – Training & Certification Center
Mobilia shopping center, Per Albin Hanssons väg 32A, 214 32 Malmö
Training includes: 50 hours of lectures (5 full days) and a hands-on internship of 100 hours
Who is the course for?
Thai people who want to open a Thai massage salon in Sweden. Note: This course is given in Thai.
Massage therapists who want to improve their knowledge of and practical skills in the Thai massage.
Salon owners who want to operate ethical and sustainable Nuad Thai businesses in Sweden.
Salon owners in Sweden or the Nordic countries who want to encourage their employees to have more knowledge and practical skills.
Why train with us?
We offer the only training in Sweden that is certified by the Department of Thai Traditional and Alternative Medicine, Ministry of Public Health, Thailand. Your certificate will be from the Ministry of Public Health, Thailand.
Our courses are delivered in Thai.
Our course includes an internship with one of our certified salons.
You will be able to promote your business as ethically certified, and benefit from the promotional work that the Nuad Thai Nordic – Training & Certification Center does.

Train with the best!
Meet our instructor: Piyawadee Bangsri. Piyawadee is a certificated and experienced Thai massage therapist with over ten years of experience. She has run salons in Helsingborg and Båstad and is a co-owner of Ayurvedi Nuad Thai, our flagship salon.
Piyawadee received 3rd prize in the World Association of Nuad Thai & Spa contest in Norway in 2022. She is a Thai Warrior Massage Trainer and an instructor at the Association of Thailand. Not only does she have impressive practical skills in massage, she is also the ThaiWISE expert on running an ethical Thai massage business.
Newsletter signup
Keep up-to-date with developments from Nuad Thai Nordic – Training & Certification Center. Meet new salons as they become certified, and receive tips on how to run a successful business in the massage industry.
"*" indicates required fields